Researchers in India detected genetic material of the SARS-CoV-2 virus in wastewater, a breakthrough that paves the way for using wastewater-based epidemiology (WBE) for real-time surveillance of COVID-19 in the country.
The study, led by group of young scientists in IIT-Gandhinagar, found that increased gene copies of the virus in Ahmedabad's wastewater matched the incidence of the disease in the city.
With this, India joins the ranks of a handful of countries doing WBE on COVID-19 , Andrew Singer, an environmental microbiologist at the UK Centre for Ecology & Hydrology, said on Twitter.
WBE is a promising approach to understand the status of disease outbreak in a certain catchment by monitoring viral load in wastewater.
Because treatment plants collect wastewater across large regions, measuring the level of RNA in untreated wastewater may provide a valuable insight into the percentage of people infected within a region, the researchers said.
Old Pirana Waste Water Treatment Plant (WWTP) in Ahmedabad receives up to 106 million litres per day (MLD) of influent from the Ahmedabad Civil Hospital which is treating COVID-19 patients, and this plant Scientists studied having taken samples of wastewater collected on May 8 and May 27 explained Manish Kumar of the Discipline of Earth Sciences, IITGN, who led the research effort.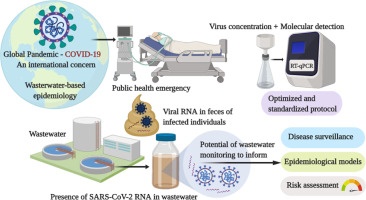 [splco_spacer]
All the three SARS-CoV-2 genes — ORF1ab, N and S — were found in the wastewater coming into the treatment plant, said the researchers, who have submitted their study for publication in the international journal Science of the Total Environment'.
The scientists said the gene copy loading – the quantity of the genetic material of the virus – detected on May 27 was almost 10 times more than that detected on May 8.
This corresponded broadly with the trajectory of the incidence of the disease. The number of active COVID-19 patients in the Ahmedabad city was two times higher on May 27 than on May 8, they said.
According to the researchers, the number of gene copies was found comparable to that reported in the untreated wastewaters of Australia, China and Turkey, but lower than that of the US, France and Spain.
Prosun Bhattacharya of Sweden's KTH Royal Institute of Technology noted that WBE can be unimaginably impactful in the war against COVID-19 with the right information about the catchment and number of people residing in the vicinity,
[splco_spacer]
Estimates based on European and North American data suggest that each person infected with SARS-CoV-2 will excrete millions of viral genomes into wastewater per day, they said.
According to the scientists, WBE was an effective tool during outbreaks of other viruses such such as poliovirus and hepatitis A.
Also they found that no gene was spotted in the effluent leaving the plant after treatment.
[splco_spacer]