Russia invaded Ukraine February 24 citing national security concerns over Kyiv's closeness to Western powers and move to join the NATO
Russia so far has captured the port city of Kherson and the derelict Chernobyl nuclear plant, and has surrounded Kharkiv, Chernihiv, and Mariupol, where a second bid at evacuating non-combatants failed today as missiles hit the airport.
Russian President Vladimir Putin delivered an ominous warning Sunday, telling Ukraine the 'military operation' that has killed hundreds (potentially thousands) already would only stop if Kyiv laid down arms and met all of the Kremlin's demands.
Putin's thinly-veiled threat was part of a telephone call with Turkish Prime Minister Tayyip Erdogan, to whom he said Ukraine would be better advised to adopt a 'constructive' approach to the third round of peace talks.
Putin, whose comments were published in a Kremlin readout of the call, said his 'special operation' in Ukraine was going according to plan and to schedule.
"It was underlined the suspension of the special operation is only possible if Kyiv stops… and carries out well-known Russian demands," the Kremlin said.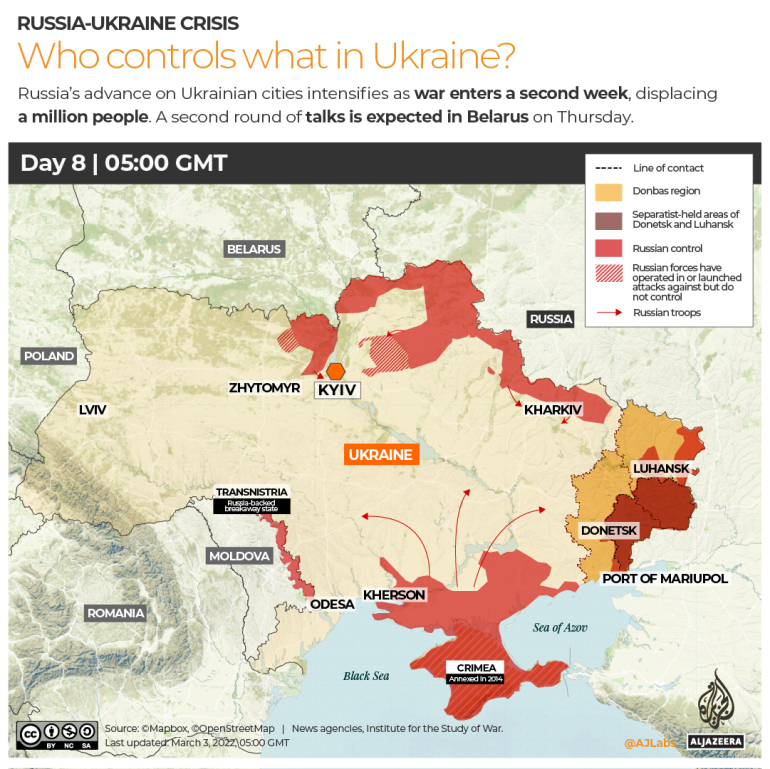 This was however denounced today by Pope Francis as a 'war' that had led 'rivers of tears and blood'
The day after Russia said it was ready to talk if Ukraine 'lays down arms'. But a belligerent Moscow has insisted its attacks will not end till Ukraine's military capabilities are destroyed and the country purged of 'neo Nazis'.
Ukraine has made several pleas before the global community and to individual western nations looking for support but nothing, so far, seems forthcoming, with the United States and others wary of a boots-on-the-ground situation.
Even NATO allies rejected Ukraine's demand for no-fly zones on Friday, saying they were increasing support but that stepping in directly would lead to a broader, even more brutal European war so far limited to Russia's assault on its neighbour.
Ukraine, a former Soviet republic that wants to join the European Union and Western military alliance NATO, is not a currently a member of either.
"We are not part of this conflict, and we have a responsibility to ensure it does not escalate and spread beyond Ukraine," NATO Secretary-General Jens Stoltenberg told a news conference.
"We understand the desperation, but we also believe that if we did that (a no-fly zone) we would end up with something that could lead to a full-fledged war in Europe involving much more countries and much more suffering," Stoltenberg said.
The only way for NATO to implement a no-fly zone would be to send NATO planes to shoot down Russian ones, he said, adding that the risk of escalation would be too big.
"Allies agree we should not have NATO planes operating over Ukrainian airspace or NATO troops operating in Ukrainian territory".
On Thursday, Zelenskyy said that if allies wouldn't meet his request to protect Ukrainian air space, they should instead provide Kyiv with more war planes.
NATO members have sent arms to Ukraine, but stopped short of military action that would put them in direct conflict with nuclear-armed Russia.
U.S. Secretary of State Antony Blinken said the alliance would defend "every inch" of NATO territory from attack. "Ours is a defensive alliance. We seek no conflict. But if conflict comes to us, we are ready for it," Blinken said.
Instead of a military presence in Ukraine, European Union countries – many of them also NATO members – said they were eyeing more economic sanctions on Russia.