Russian President Vladimir Putin told French leader Emmanuel Macron on Thursday that Russia would achieve the goals of its military intervention in Ukraine whatever happens, the Kremlin said.
In a statement issued after the French and Russian presidents spoke by phone, the Kremlin made clear its goals included the demilitarisation and neutrality of Ukraine.
Any attempts by Kyiv to delay negotiations between Russian and Ukrainian officials would result in Moscow adding more items to a list of demands it has already set out, it said.
"Vladimir Putin outlined in detail the fundamental approaches and conditions in the context of negotiations with representatives of Kyiv. It was confirmed that, first of all, we are talking about the demilitarisation and neutral status of Ukraine, so that a threat to the Russian Federation will never emanate from its territory," the statement said.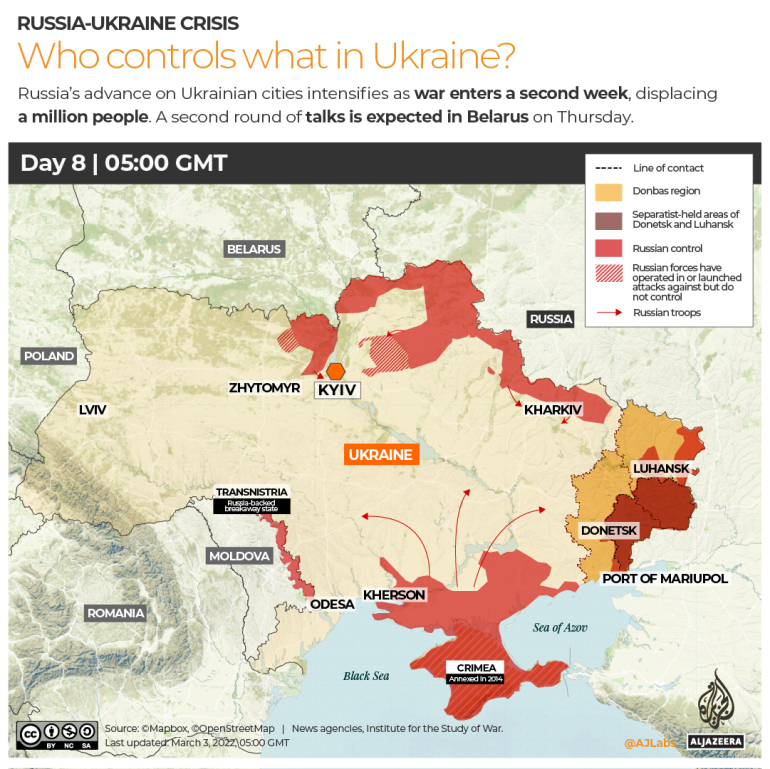 "It was emphasised that the tasks of the special military operation will be fulfilled in any event, and attempts to gain time by dragging out negotiations will only lead to additional demands on Kiev in our negotiating position."
The statement said Russia's "special operation" in Ukraine was going "according to plan".
It said reports that Russian forces were bombarding Kyiv were part of an "anti-Russia disinformation campaign", and that Russian forces were doing all they could to protect civilians.
Russia calls its actions in Ukraine a "special operation" that it says is not designed to occupy territory but to destroy its southern neighbour's military capabilities and capture what it regards as dangerous nationalists.
Below are the key events so far from Wednesday, March 3, the eighth day of Russia's invasion of Ukraine:
Russian forces take the Black Sea city of Kherson in southern Ukraine, a significant victory for Moscow after a string of military setbacks. Russian forces also surround Mariupol, where "terrifying fighting" is reported.
Ukraine's second city Kharkiv continues to come under severe Russian shelling, with police and university buildings among the latest struck.
Ukrainian media say several "massive explosions" have been heard in the capital, Kyiv, triggering air-raid sirens amid fighting on the outskirts of the capital.
The miles-long Russian military convoy north of Kyiv remains more than 30km (18 miles) from the capital as a result of it having been delayed by "staunch Ukrainian resistance" and logistical issues, the United Kingdom's defence ministry says.
First Russian toll
Russia says 498 of its troops have been killed in Ukraine, its first declared death toll since President Vladimir Putin launched his invasion on February 24. The true number of casualties on each side is not known. The United Nations has recorded at least 227 civilian deaths, but says the real toll is likely higher.