After denying reports of the scheduled arrival of a Chinese research vessel, Sri Lanka's Ministry of Defence on July 30 confirmed that the vessel had sought clearance to call at the southern Hambantota Port in 2nd week of August.
Reports of the vessel Yuan Wang 5 involved in space and satellite tracking, came to New Delhi's notice earlier this week, when External Affairs Ministry spokesman Arindam Bagchi told the weekly media briefing that India "carefully monitors any development having a bearing on its security and economic interests".
"The vessel will be in Hambantota from August 11 to 17, mainly for replenishment, including fuel," Sri Lanka's Defence Ministry media spokesman Col. Nalin Herath said.
Soon after, China said it hopes that "relevant parties" would refrain from interfering with its "legitimate maritime activities", news agency Reuters reports.
The remark indicated that the Chinese vessel's arrival could potentially leave Colombo caught between New Delhi and Beijing's interests once again.
While the Ministry of Defence in Colombo did not explain why it had earlier denied the vessel's arrival, Col. Herath said: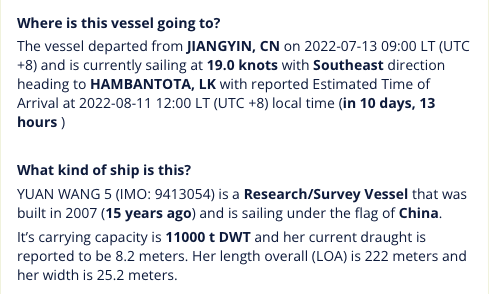 "Such vessels periodically come from various countries such as India, China, Japan, Australia. It is nothing unusual."
However, geostrategic analysts are closely watching the development, given past tensions between Colombo and New Delhi, especially after Colombo allowed a Chinese nuclear-powered submarine Changzheng 2 to dock at its port in 2014.
Construction of the Hambantota port in srilanka was commenced in January 2008. 
In 2016, it reported an operating profit of US$1.81 million but was considered economically unviable.
As debt repayment got difficult, the newly-elected government decided to privatise an 80% stake of the port to raise foreign exchange in order to repay maturing sovereign bonds unrelated to the port.
Of the two bidding companies, China Merchants Port (CMP ) was chosen, which was to pay US$1.12 billion to Sri Lanka and spend additional amounts to develop the port into full operation.
In July 2017, the agreement was signed, but CMPort was allowed a 70% stake. Simultaneously a 99-year lease on the port was granted to CMPort.