Prithika great-grandfather is Annadurai who is founder of DMK party that propagates the dravidian ideology that ruled Tamilnadu for 22 years during the period from 1967 ~ 2011
"My first preference is the IFS. I've always been interested in international relations and bi-nation relations of India and would love to serve either in the UN or WHO," said the 23-year-old Prithika .
Civil services requires dedication towards helping others and that comes at the cost of financial or professional gain, which Prithika does not mind foregoing.
[splco_spacer]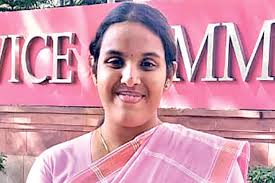 [splco_spacer]
"My work won't affect people in the grass root-level directly but most of our policies are based on global frameworks.
I want to represent India on that international platform to create holistic and beneficial policies," said the Electrical Engineering graduate from SSN College of Engineering.
Her great-grandfather Annadurai, passed away before she was born, but Prithika hopes to continue his service.
"I've never thought of my great-grandfather's legacy as a burden. I am very proud of him and his work, because he served the poor and the vulnerable.
[splco_spacer]
[splco_spacer]
I want to create an identity for myself, rather than be in his shadow," she said. Prithika is also interested in working for women's rights, health, and primary education on a global scale.
A tennis player since 10, Prithika is a huge fan of Roger Federer, and says that the sport has taught her many things. "I've played tennis for a long time. Tennis teaches you endurance, physical and mental," she said.