The BJP led Modi government 's  Union Home ministry on Wednesday, asked the  ADMK led Palanisamy Tamil Nadu government to revoke its order allowing 100% seating in cinemas from the current 50% capacity. 
Centre  has categorically said that state government's decision diluted the guidelines issued by the Union ministry of home affairs (MHA).  
The AIADMK government of the state, lifted the restrictions on movie theatres last week. State's revenue and disaster management department passed an order on January 4 to increase the seating capacity in cinemas, theatres and multiplexes to 100%.  
While passing the order, the department had also reiterated the fact that all standard operating procedures and COVID-19 precautionary measures be taken during showtime.  
It should be noted The Union home ministry has so far allowed 50% occupancy in movie theatres outside containment zones as part of the phased unlock process. 
Giving that reminder to the state, a letter from the Union Home Secretary Ajay Bhalla said the Home Ministry has extended those guidelines till January 31.  
The Union government letter also cited a Supreme Court order that asked states to enforce Covid-appropriate behaviour, including wearing of masks and maintaining social distancing.  
Meanwhile the decision of the Tamil Nadu government is receiving criticism from other sections of the society. Reacting to the controversial move, a doctor from the state has penned an open-letter to actors Vijay and Silambarasan and the Tamil Nadu government.   
A social media message put went viral  where  in that  doctor named Aravinth Srinivas, who is reportedly a junior resident at Jawaharlal Institute of Postgraduate Medical Education and Research, Puducherry, has said in the letter that he and other frontline workers, including police officials and sanitary workers, are tired.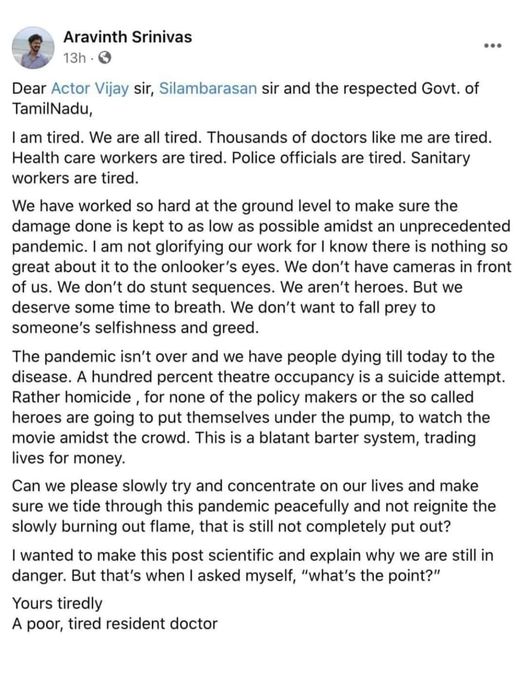 He said that they deserve some time to breathe and don't want to 'fall prey to someone's selfishness and greed'.  
Ironically  Tamilnadu Government  given special  permission for 100% occupancy was issued two days ago after requests from many film stars to increase capacity before Pongal
Also PILs been filled against Tamilnadu Government move in Madurai branch of  High Court and it is coming for inquiry on 08 January
BJP revising CM candidature gears cause concern for Palanisamy faction in ADMK