After almost 21 years, this project had seen 5 Indian Prime Ministers  now  the stage is set and   Bogibeel Bridge on December 25 is finally  Opened .
Situated 17km downstream of Dibrugarh, Bogibeel bridge is the fourth bridge over the Brahmaputra that will connect Dibrugarh and Dhemaji districts.
The foundation stone of the bridge was laid almost 21 years ago by the then Prime Minister H.D. Deve Gowda on January 22, 1997. On April 21, 2002, then Prime Minister Atal Bihari Vajpayee inaugurated the construction work of the project

.
Because of revised deadlines, the project cost had already shot up from the initial Rs 1,767 crore to Rs 5,800 crore.
Having already missed several deadlines over the years, the bridge has earned the tag of the slowest moving infrastructure project in the Northeast.
With Prime Minister Modi dedicated India's longest rail-cum-road bridge to the nation, railway authorities and the district administrations of Dibrugarh and Dhemaji districts have been working round-the-clock to ensure that there is no last-minute hiccups to the historic event.
The strategically important bridge over the mighty Brahmaputra will remove communication bottlenecks to several districts in Arunachal Pradesh.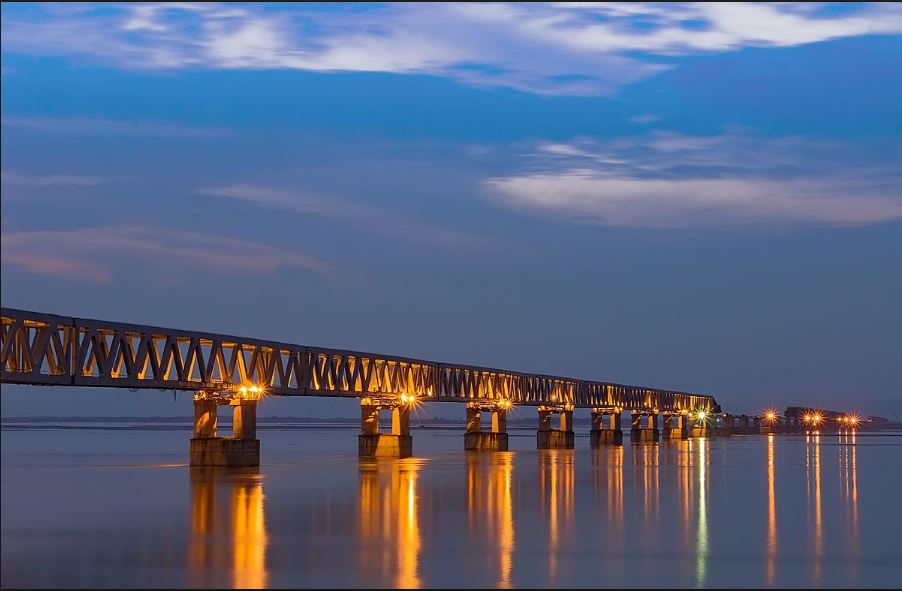 The bridge, which begins at Dibrugarh and ends at Dhemaji districts of Assam, will connect parts of Arunachal Pradesh by road as well as railway.
The Bogibeel Bridge, which was a part of the Assam Accord and sanctioned in 1997-98, is likely to play a crucial role in defence movement along the India-China border in Arunachal Pradesh.
Salient features of Bogibeel bridge
Bogibeel river bridge is the longest rail-cum-road bridge of India with the total length of 4.94 kilometers, it is the longest rail-cum- bridge in India.
The Bogibeel Bridge is the longest rail-cum-road bridge over the Brahmaputra river in the Dibrugarh district of Assam state in north-east India.
Bogibeel Bridge is India's first bridge to have fully wielded steel-concrete support beams that can withstand earthquakes of magnitudes upto 7 Richter Scale.
This is also Asia's 2nd longest rail-cum-road bridge that has a serviceable period of around 120 years.
This is the 4th longest bridge in India after Bhupen Hazarika Setu, Mahatma Gandhi Setu and Bandra-Worli Sea Link.