[splco_heading size="17″ align="left" margin="30″]The coronavirus short 4 hrs notice by BJP led Modi Government for 21 days lockdown on march 25th that has been extended again and again until June 1st has triggered a massive movement of million of  migrant workers  who got stranded  across the country  who  faced hunger and lack of proper housing decided to return to their native places. [/splco_heading]
The migrants have been making long journeys more than 1000 kms  on foot with hunger after public  transports came to a total halt ..
Earlier after lot of accidents on road and railway tracks had  happened during lockdown involving migrants various PILs knocked Supreme Court doors but it failed to convince the honourable bench comprising Justices L Nageswara Rao, S K Kaul and B R Gavai and the bench observed that it was not possible for the Court to monitor the situation, and said that it is up to the State Governments to take appropriate actions in that regard.
Indians during lockdown  witnessed a nearly impossible Herculean task and hearing that event  American president daughter Ivanka Trump could not hide her emotions and praised a teenage girl of 15 yrs age after she  peddled 1200 kms by bicycle carrying her ailing father to Bihar.
[splco_spacer size="30″]
[splco_spacer size="30″]
Last Sunday Senior advocate Dushyanth Dave spoken during a virtual seminar has not minced words but rather crystal clearly put forth   that judges are not doing their duties in the case of Migrant workers . When the Supreme Court has not passed orders to hold the executive answerable, the High Courts are bound to take a cue, the Senior Advocate remarked, ruing that this is leading to a "systematic collapse of the judicial powers." he added 
Civil commotions witnessed  across India at various places where the migrants been kept  at large numbers but in  small areas  boycotting  social distancing factor  by regulating bodies
[splco_spacer size="30″]
In these prevailing  circmstances  today  that is after 61 days of lock down A bench of Justices Ashok Bhushan, Sanjay Kishan Kaul and M R Shah issued notice to the Centre, states and Union Territories and sought their replies by May 28 on the steps taken to redeem the situation.
The apex court has noted that though the Centre and the states have taken measures, there have been certain lapses. The Bench also noted how the media has constantly been showing the plight of the migrant workers "walking bare-foot".
"The newspaper reports and the media reports have been continuously showing the unfortunate and miserable conditions of migrant labourers walking on-foot and cycles from long distances.
[splco_spacer size="30″]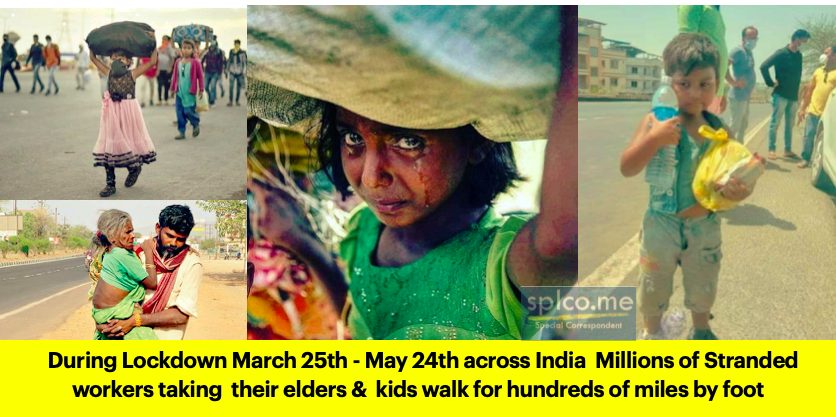 [splco_spacer size="30″]
They have also been complaining of not being provided food and water by the administration at places where they were stranded or in the way i.e. highways from which they proceeded on-foot, cycles or other modes of transport," the Supreme Court noted.
The court has further noted that as the country continues to be in lockdown, the migrant workers need "succour and help by the concerned Governments", and that "steps need to be taken by the Government of India, State Governments/ Union Territories in this difficult situation to extend helping hand to these migrant labourers."
[splco_spacer size="30″]
[splco_spacer size="30″]
In its order, the three-judge Bench has stated that it had received communication from different sectors highlighting the plight of migrant workers. It goes on to note how the "crisis of migrant labourers is even continuing today with large sections still stranded on roads, highways, railway stations and state borders."
The top court listed the matter for May 28 and asked Solicitor General Tushar Mehta to assist it on the issue.
[splco_spacer size="30″]
Supreme Court finally taken the case on Suo moto basics is just a beginning .  The painful  plight of the  migrant workers and their  hardships they have faced and facing  due to sudden lock down will they  be given proper guidance and humanly treatment by the  honourable Judges is not just  the expectations from  People of India across all sections  but remains as their silent prayers
[splco_spacer size="30″]
Hope  Honourable Judges swiftly hear hidden tumult inside the  silence of migrants and render Justice at earliest
[splco_spacer size="30″]